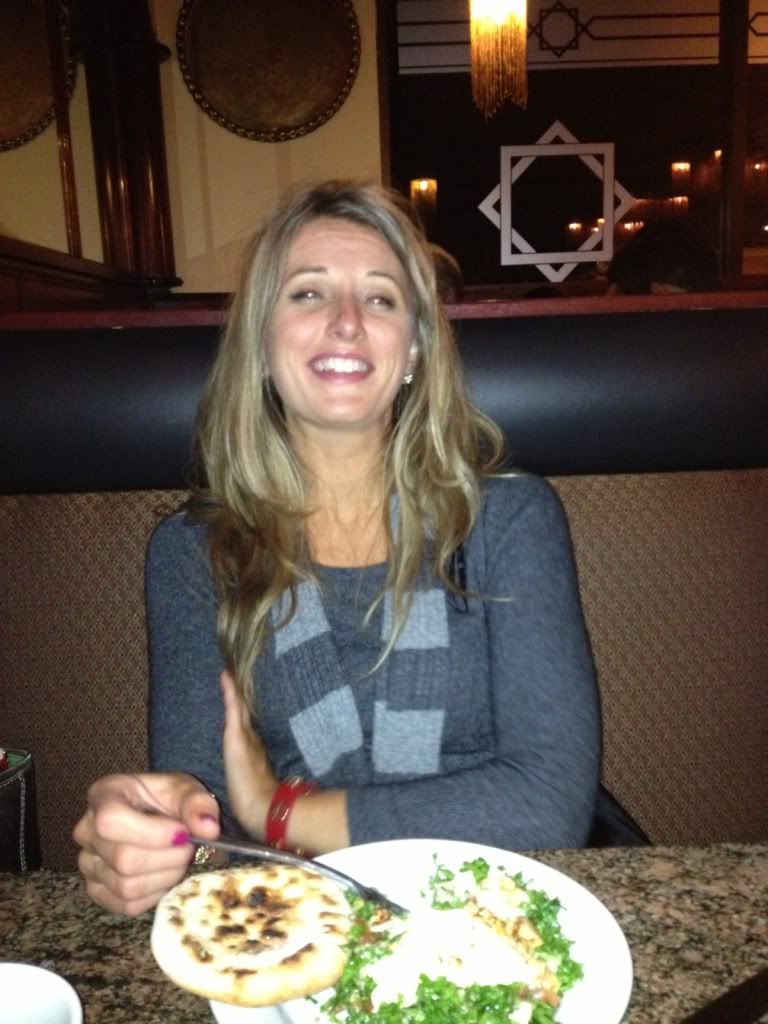 Last week.
This last week, I spoke to millions of people via a Fox News segment and also hundreds of people about Winning Sugar at local Better Health Markets near my home. Thank you for joining me on this blog if you've been following from the beginning or you are joining in now. I'm honored to be with you.
The sugar program info is here.
That's me to the left, out with a friend, laughing so hard it hurt and dining on some awesome Middle Eastern cuisine. I was also over tired and in bed an hour after that photo.
One of my most profound moments last week was the woman who came up to me crying after I spoke. She shared with me that she "finally got it, that she knows this is hard, but she knows what to do now and she will do it anyway." She thanked me a lot and we hugged.
The other moment that stuck out was shooting a pretend laser with my 3-year-old son, crashing to the floor over and over in deep full on impact playtime and laughter that left me crying and my legs bruised at the end.  Rewarding and awesome.
The lesson: deep human connection.
***********************************************
I've been asked A LOT… "Renee, what do you eat? What is your lifestyle like?"
Today, I want to share with you some things that I do every day that contribute to my health and then in a future blog I will share the 3 C's to sustainable weight loss and sugar addiction because what you are about to read is like the appetizer to that main course.
Sometimes weight loss goals, personal health goals, letting go of sugar addiction, healing your relationship with your partner, having lots of cash and keeping it, the career you desire most… these goals feel so high up on the mountain.  Having reached the summit, we feel this ecstasy only to be let down when we realize we aren't living the fantasy.
And yet…
What holds us back?
I believe the root of what hold's us back is the deep connection we don't often have with humans, in particular – yourself. The connection you have with YOU.
***********************************************
A story.
It wasn't long ago where I was sitting in the doctor's office where I see some of the physician's patients each week. I was there as a practitioner but half way through I thought I needed to be the patient.
Prior to the session, I did my meditation and prayer for the person I was about to see. We'll call her "Gloria" for the sake of the story. My goal is to be present and show up fully for that person and this ritual helps me. While I'm listening, I'm looking for a miracle to occur for that person, which is really a shift in perception. I am speaking only when guided to. This requires me to "hold a space" for that person that has good energy, that is free of my internal crap and thoughts and it feels safe for them to be free and vulnerable.
As Gloria spoke to me, I began having a profound pain in my chest. It really hurt and it was a stabbing feeling. I grabbed the table and squeezed tightly to try to hide it. I began thinking about what this could be and needing it to go away so I could listen to her fully. The pain only got worse. I was feeling grateful to be in a doctor's office wondering if I might need to walk down the hall to be checked out…
I remember saying in my mind that this hour wasn't about me and to let this go and to be present for Gloria…. To listen and snap out of it.  I had a moment of getting down on myself and feeling selfish that my feelings were taking over when I wanted to be there for her.  I needed to let Gloria see she was capable in the issue she was sharing, even though she couldn't see it for herself and I was having a hard time focusing on her.
I took a few deep breaths with my hand on my heart,  as Gloria spoke.
It was in that moment that I realized I needed to ask Gloria about HER chest.  This idea seemed strange so I pushed away the thought at first. Gloria kept talking. I kept partially listening and hurting.
Then I asked her…. "How is your chest feeling these days?"
Gloria said, "funny you should ask that!"   She began to explain that she's been struggling with intense chest pains all week. Stronger than heartburn and quite painful. Gloria shared that it was unbearable this morning and it was hurting her right now.
Fast forward to 15 minutes later. She ended up sharing an extremely painful and fearful childhood memory and how her father and mother responded to the situation with her after it was over. Gloria began to sob. She was healing.
I believe this childhood story and the pain of her parents was weighing on her heart and her chest. I also believe it was keeping "weight on her body too". I did recommend some "gut" healing to help her digestion, some healthy fats too… however I knew that her sobbing and sharing that story eased up most of what was weighing on her.
The Lesson: How to tell the difference between your feelings and someone else's feelings.
I am still learning at this but getting better and better.  I have a belief that many of us feel other people's "stuff" and we end up carrying it around as our own "baggage" because we cannot tell the difference.
By the way, yes, my chest pain went away very quickly after that.
Even if you have a hard time believing that story or understanding it, I invite you to keep an open mind to it and here is why…
This concept is a Very Important factor in weight loss that not many people talk about. I'll be sharing more about it on next week's blog.
***********************************************
Truth.
The truth set me free.  I was not living in my truth for years. In other words, I was feeling like a victim rather than taking care of myself. I was blaming versus accepting.  I was controlling instead of trusting. 
I had forgotten who I was.
We have a choice about the thoughts we think. Our thoughts don't just happen to us, we allow them to happen and we can change our thoughts.
Take Action: Are you aware of your thoughts? How can you listen today to the conversation you have with yourself?
When we do, we will begin to change our beliefs. However, in order to change our thoughts we must allow ourselves to actually feel them!
Feeling.
No one wants to talk about feelings. We avoid them. We think it's too vulnerable of a place to be in.  Sometimes feeling "stuff" makes us feel too 'feminine' (whether you are a man or woman), so we often NUMB those feelings assuming feeling anything or accessing our femininity is a sign of weakness. It's not.
Take Action: Journal them out.
(I often ask people initially to journal what they eat and how they feel after each meal, I highly recommend this)
You know what happens though when they get to the writing about "feelings" part?
They get irritated because they don't see the point in simply writing "I feel fine", "I feel good", "I don't feel anything"
Here lies the problem (and the gift). You have forgotten how to feel. You have forgotten how to creatively express your innermost emotions.
Somewhere along the way, many of us began associating our feelings with stuff like sugar, food, work, alcohol, drugs, 'special' or unhealthy relationships. Instead of "feeling", it became easier to burry, hide and numb these feelings in the bowl of pop corn, Ben and Jerry's, work project or dysfunctional relationship.
I get it all to well. I've been there!
If you want to heal your food stuff, weight stuff and relationships – you must learn to feel all of your "stuff"…. Whether you want to or not!!!
This is the essence of Love Yourself Naked…. Stripping down.
Speaking of stripping down…
Looking in the mirror.
I recall staring at myself in the mirror when I was a young little girl and an adult walked by me and told me to stop being so vain.  That moment stuck with me for years and years! It defined who I was. I believed I was vain.
Now, this adult obviously didn't know at the time what they were saying could hurt or that it could have been handled differently or even the impact it would have. The comment came from their own "stuff".
We've all had the moments where some said something that has never left us. We might not consciously think of it each day, but it's become part of our story and it creates conflict in our lives, weight gain, relationship issues, etc.
I'm pretty grateful for the comment now. It was a catalyst to creating this business that serves so many others.
What if… in that moment, that adult had come closer to my little girl self  and said, "get closer to that mirror. Look deeply into your eyes. What do you see?"
There is a universal belief that our reflection is a vital part of our soul. 
I believe that you must stare deeply into your eyes in a mirror. You must be able to really see yourself. You may cry, you may feel uncomfortable at first. You might think it's stupid and pointless.  You may see your shame and oh boy it's tough to see it at first, but keep staring.
You need to be seen and it's starts with a mirror and you. Once you've mastered that, we can talk more about "loving yourself naked" but not until you can see your true self in your own eyes with awareness and solitude.
Take Action: practice in the mirror today
I love the Buddhist koan that asks, "what does your original face look like?"
With deep commitment to your love yourself naked journey,
Renee
xo
P.S. Looking forward to sharing on next weeks blog, The 3 C's To Sustainable Weight Loss.  Reminder that the Winning Sugar course closes this Sunday for a while since our cleanse opens soon.