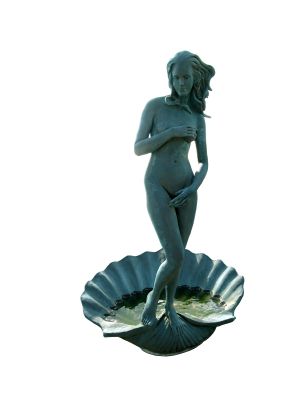 To understand greek mythology and the proverbial characters within it is to understand one's self and how we relate to our body's, each other and our individual lives. My belief is these lessons in mythology can offer us wonderful lessons about being human.
There have been lessons coming to us from Ancient Greece for centuries and in many ways it has shaped our culture. As I dusted off my old book that I haven't picked up since high school, The Odyssey by Homer, it occurred to me that much of our lives have been shaped by these Greek Gods and Goddesses…
Not long ago when being interviewed by my friend LiYana Silver for her program, Inner Feminine Badass (a program I'm personally taking part in when it opens up in November) she asked me a question.
LiYana: "Renee, does your Inner Feminine Badass have a name?"
Renee: "Yes, I call her Aphrodite…"
Now, before I draw the curtain on how Aphrodite relates to Love Yourself Naked and Nutrition for your body, let me take you back stage to the story on my own Inner Feminine Badass and why I named her after a Greek Goddess called Aphrodite.
I must admit, this blog took some major badass channeling for me to share with you because although I explain below the reason for my choice in Aphrodite, she certainly had an interesting reputation… one that I'm not sure I would want to have in this lifetime…
However, it is because I judged her so harshly at first for her reputation that I decided to choose her.
+++++++++
Back stage.
As an entrepreneur who also happens to be a woman, I have found it imperative to develop strengths and to draw upon muses as our courage and vigor are tested each day. Granted, I am writing from a woman perspective and I know I have a male following and I believe the same to be true for all men.  We all have trials and what doesn't "kill us makes us stronger" because we are able to realize our strength within the trials and tap into a resource of strength.
Why I have a Muse.
One of my muses if you will, not long ago, became Aphrodite. Now, I do not wish to emulate all of the traits that Aphrodite possesses, but only those that I can learn from and those I will weave into myself. With that said, my other muses happen to be Richard Branson, Apple, house music from France, Argentina or India, Pink and BeYonce for reasons all unique to me and my businesses.
"My hunger for success is fueled by my passion"
These muses you see above are archetypes that allow me to draw into my passion and project it back out to the world.
How you heal. 
I strongly believe that we can sustain success in what we want to do when we focus on our passions and it is through discovering them that you heal whatever that has been deeply frustrating you.
I recall the first time some told me I was a Goddess; I had a hard time with the statement. At first I didn't want to own my Goddess self but I also realized in that moment that I feared HER, I feared my Goddess self. As life would have it at the time, I was then tested to own that Goddess part of me as I began to learn of the value of love and relationships in my life.
It wasn't long ago that I had some photos taken and someone commented that I represented the archetype of Athena. This blew me away (thanks for the compliment) but it really was the catalyst to my interest in reading about Greek Mythology again.
I learned that the more I focused on my Goddess or as LiYana beautifully says, our Inner Feminine Badass, the more I was valued and respected within all of my relationships.
Now, Aphrodite is an an archetype, if you will, and the more I studied of her, the more I began to see her in many of the women in my life. It allowed me to cherish these character traits and humanity in general. I was able to let judgements and fear dissolve because I could see the common denominator we all share.
Mostly, I was able to own my Goddess and this is so important to a healthy lifestyle.
Aphrodite Enters The Stage.
Most people who have studied mythology know the name of Aphrodite, the Greek Goddess of Love and Beauty. There are other stories that portray her as a "deity of petty desires". Some saw her as a goddess of pure and spiritual love and the act of her birth is what separated Heaven and Earth and created the world that is in the 'middle'. There are other stories that depict Aphrodite as having a bit of a reputation and some conflicting stories say she was actually born from the union of Zeus and the Titan Goddess Dione.
Aphrodite was known to have a very strong power over love and an inner peace that allowed her to tap into her feelings, intuition and the source of human passion.
Her use of power.
Aphrodite was known for anger and spitefulness, it was said she was the cause of the Trojan War.
She had a mystical quality about her and an ability to transform people. I read some research from a Jungian analyst, Jean Shinoda Bolen who referred to Aphrodite as the Alchemical Goddess, because she alone had magical powers of transformation that could cause both Gods and mortals to do as she bid them. She cast spells. She turned statues into living women. She inspired writings, poetry and symbolism around love.
She didn't belong in any one group within mythology and she really stood alone. Aphrodite was very sexually active and many names could be used… most commonly loose. She was not vulnerable and when wanted something, she often got it. She only entered into a relationship with someone if the feelings were mutual and she was extremely independent. She valued and appreciated relationships but wasn't interested in making long term plans.
Her quest was to consummate relationships and create new life. There is no doubt that Aphrodite had a strong connection and desire for men and sex. It was said that her Goddess could culminate beauty within someone and then allowing them to become irresistible, causing an immediate attraction to happen. This didn't necessarily always mean sexual chemistry but also psychological and spiritual urges as well.
Represent. 
Aphrodite represents intimacy at its core and the desire to be completely known and to know someone else completely. So spiritual, physical, psychological and emotional intimacy, birth of ideas and creation of life. Although there was a definitive sexuality to her it was not limited to just that.
"Aphrodite feels Platonic love, deep friendships, empathic understandings, and soul connections"
She is always at center stage and has the naturally ability to make people feel like they are the only on in the room. She is a consummate charmer and she gave each person her full attention by listening with such fascination that it was often easy to be confused by her intentions.
It is written that there were many, many Gods and mortal men that were in love with Aphrodite because of her beauty and appeal. She was linked romantically to many and birthed many children through her romances.
There are a lot of stories about Aphrodite's cruel deeds to others that are pretty shocking and mind blowing. She had a side to her that was extremely mean and in today's terms she also might have been labeled as a whore.
"Aphrodite came out of the sea in all her naked, golden haired beauty. But she can also be part of a plain looking woman, who is charismatic and attracts others with her warmth and charm"
Life lessons from Aphrodite.
FEAR.
I felt it was a bit risky for me at first to choose a muse such as Aphrodite knowing that she was known for some things that were the complete opposite of what I wanted to attract in my life. In fact, I down right feared her at first. I was so scared to look at her and me.
ABANDONMENT.
A woman's worst fear is abandonment and thus we try to control everything around us to feel safety. I have seen and experienced in my own life women trading their femininity for safety and  most of our energy is spent hiding our true self.
CONTROL.
Aphrodite didn't fear abandonment and she didn't try to control, instead she was known for an uncontrollable nature and her reputation was there because she was feared for being liberated and free.
I want you to know that it is within this understanding of your fears, vulnerabilities and control that we find health, we lose weight and we heal ourselves. Yes, we need some healthy food too, plans, direction and accountability. All of these are important and I feel that many of us are focusing only on the food, calorie counting and plans.
We are failing to see that our fears are deeply rooted and holding us back.
You have a choice to flip your fear switch to off. 
You can still be cautious about life, but stay open because when you are open, wonderful things happen. 
I've taken the liberty of channeling Aphrodite and I leave you with 10 takeaways from a Goddess who definitely Loved Herself Naked. 
Focused attention on what is meaningful to you.
Allowing yourself to be the center of attention.
Listen to others with compassion and make them feel as though they are the most important person in the world. 
Live in the moment with yourself and others as it's the norm. 
Express yourself through creativity, passion, sensuality.
Appreciate your beauty and sexuality and of the women around you.
Be a force for change in the world. 
Being happy in your career is more important than the money you earn.
Focus on the arts. Writing, painting, dancing, acting, creation.
Channel your fantasy's into pleasure.
I desire for you to find your own muse(s) and discover the Inner Goddess (or God) within yourself and all of the women (men) around you. 
Love the body you're in,
PS. If you haven't heard yet, the 18 Day Love Yourself Naked Challenge has been rebirthed Goddess style and it's good… really good. In honor of this and it's grand opening, I'm offering FREE 30 minute sessions. Only serious inquires only. When it's full, it's full. Email support@reneeheigel.com for an application. You must email us before Oct 23 to qualify. xoxo