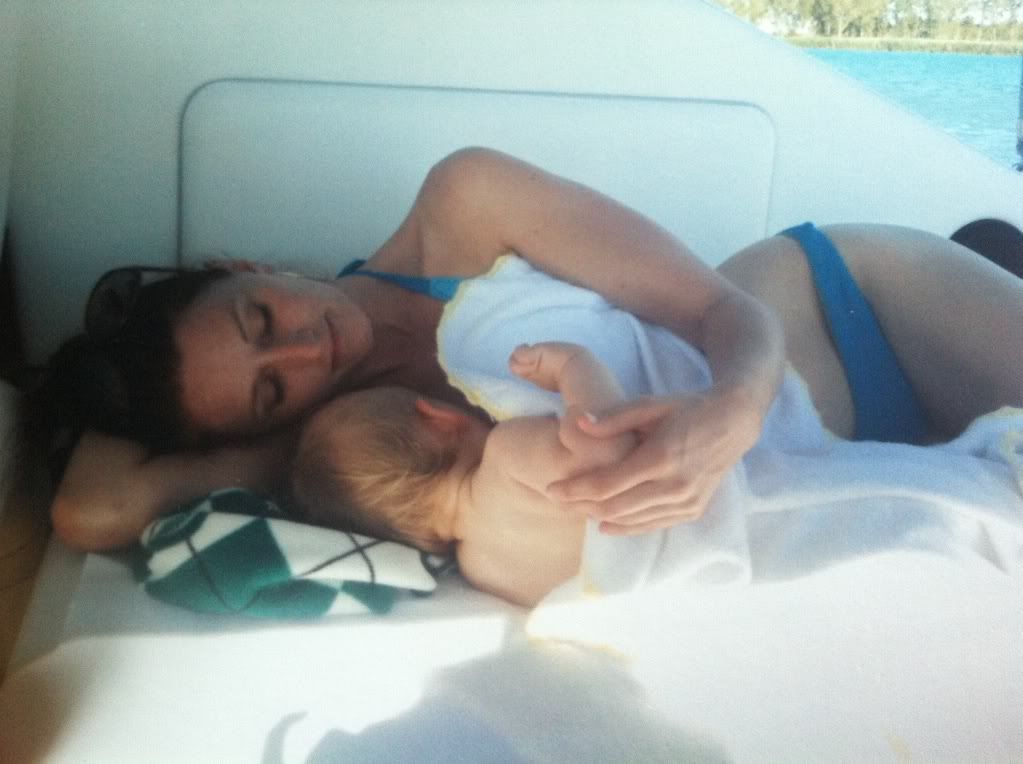 What if food, diet and excercise were not the biggest reasons we put or kept the weight on? 
What if "mothering" of thy self was a key to maintaining health, weight loss and joy in one's life for the long term?
Take the next 5 minutes to mother YOU and read this…
Above, there is a picture of me nursing my son way back when he still received nutrients from me. Now, he is much more interested in green juice (I'm so proud), honey sticks and blueberry pancakes. As my son Manny stopped nursing at 17 months, he became responsible for a certain type of mothering of himself. Learning to drink when he felt thirsty, ask for food when he felt hungry… obviously within the constructs of my guidance. 
Yet, there is a natural ability within humans to self sooth, "mother" and respect ourselves. Today, at almost 3 years old, he identified and picked kale and zucchini out of a garden and asked to eat it for lunch (yes, proud again), but even more so, I'm in awe of the instinctive ability of children to play, love, nurture, eat, drink and to move their body's without having to be TOLD TO DO IT.  
Before I speak on "mothering" today, a little secret that there will be 2 videos on this very topic in the up and coming Love Yourself Naked Video Summit launching in a week. I'm interviewing some fabulous women who are perfect to share this idea with you. . 
So if you like these 4 tips below get ready to have your eye's wide open to some amazing life-changers… Be sure to register when it opens up. 
Regardless if you are male or female or how your parents taught you… it is ingrained within your DNA to protect, nurture, love, provide safety and pleasure to yourself. I believe that when "life happens" we begin to get further and further away from our instinctive traits to love and mother ourselves. 
These 4 tips will impact your weight loss + health journey and they have nothing to do with food, diet or exercise. They work incredibly well if you really want those longterm results versus short term fixes (note: my sarcasm) (smiles)
Speaking your truth and getting your voice out into the world. This "speaking your truth" idea has been one of my biggest lessons in the last couple of years. It has not only empowered me, but allowed me to be completely free. The only time we feel trapped is because we allow ourselves to be. If you feel trapped and are not speaking your truth you may find that you also feel trapped within your body and skin. By literally finding and sharing your voice, you can shed pounds. This is really about stepping into your power in all areas of life. Take it a step at a time and speak up! There will be an excellent video about this in the Love Yourself Naked Video Summit too…
Looking at your mess. During the event I attended in Manhattan last Sunday, KC Baker's: School For The Well Spoken Woman, I heard this quote, 'you can turn your mess into your message'. When I look back, my entire business has been built because I made a choice to overcome all of the messes I was in, issues I had and created for myself. Funny isn't it. From healing the "stuff", energy was opened up to CREATE. This is not to say that I won't have more 'stuff' and I'm all done or anything… It simply means that your answers to why things are not working like you want them to are not outside of you… they are inside wrapped up in the drama's, chaos and issues.  When you get to the root of these, you shed pounds.
Tapping into your unexpressed creativity. Imagine yourself as a 3 year old right now. You would be skipping outside, running through sprinklers, getting dirty, allowing your fingers to massage the paints into the canvas and laughing and giggling while you did it all.  How are you creative? Where are you stifling your creativity and how can you express more of it? We all grow up being creative and it's when we stop that we begin to gain weight, become unhealthy and sick. Find thepleasure in your creativity.

Discovering your passion. A lovely lady, I heard speak this past weekend (Jessica Procini) said this, "Excess weight is a sign your passion is on pause." So I ask you… what are you passionate about and how can you recreate this passion in your day to day life? What needs to be cleared away, changed or added back in for you to reclaim your passion? *A deep passion that will allow you to stand up and scream from the rooftops!
Sending love to you and thank you for allowing me into your home each week. It is truly an honor!
Renee